Restoration of the Domenico Traeri Organ from 1742
Originally, the organ stood in a small church near Modena, Italy, which was damaged during the Second World War and later demolished in the 1950's. Around that time the organ was purchased by a private individual and moved into his house. His plan was to have it restored and to be used as a house organ. The organ was stored in the attic of his family home for about 50 years. This is certainly one of the main reasons why the instrument is in such good condition and nothing has been lost.
This instrument is one of the later creations of Domenico Traeri. Earlier instruments are known from around 1710 even though the Traeri organ builder dynasty has been building organs since the later part of the 17thcentury in the region of Modena- Bologna-and Reggio.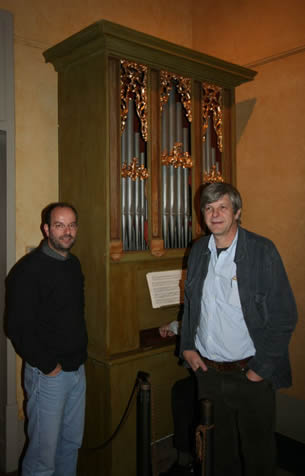 The art of organ building was handed down from generation to generation. Some of theorgans are signed by two organ builders of the same family like the instrument of "Chiesa parrochiale" in Montabraro near Modena from the year 1694. (Francesco and Domenico Traeri)
Carlo Traeri worked in the second part of the 17th Century. Agostino Traeri from the middle to the end of the 18th century.
Restorers: Robert Wech and Martin Pasi